Mapping Entrepreneurial Ecosystem (EE) of Palestine
Abstract
In recent years, the role of entrepreneurs and micro, small, and medium-sized enterprises (MSMEs) has gained attention, especially in developing economies. They contribute to productivity growth, job creation, and promotion of innovation and business internationalization. There is an increasing number of entrepreneurial actors within regional economies, so it is essential to shift from focusing on specific activities involved in entrepreneurship to a more holistic understanding of the environment in which entrepreneurs and MSMEs are operating, the so-called entrepreneurial ecosystem (EE). In Palestine, due to the limited resources and the high unemployment rate, entrepreneurship has become a national priority and an opportunity for wealth-seeking individuals. Mapping EE of Palestine is considered a basis for managing and evaluating conditions and performance of Entrepreneurship. Investigation of the elements of EE in Palestine has been built based on Isenberg's (2011) domains: conductive policy, markets, capital, human skills, culture, and supports. The investigation shows that Palestine is yet under development and in the infancy stage. The efforts by governmental authorities to support MSMEs are limited, coupled with a poor business market, the ineffectiveness of the credit market, and the limited role of supporting institutions working in Palestine. The national culture also obstructs the performance of entrepreneurship because of its deep-rooted traditions. Furthermore, there is a gap between traditional education and what it should be to improve entrepreneurial skills. A pyramid structure of activities executed by different actors according to their impact and influence is recommended to improve EE.
Research pape
Keywords: Entrepreneurial Ecosystem; Palestine; MSME; Finance; Human Capital; Culture
Reference to this paper should be made as follows: Karaki, F. J. (2021). Mapping Entrepreneurial Ecosystem (EE) of Palestine. Journal of Entrepreneurship, Business and Economics, 9(2), 174–217.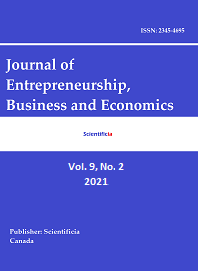 How to Cite
KARAKI, Flair J. Mapping Entrepreneurial Ecosystem (EE) of Palestine.
Journal of Entrepreneurship, Business and Economics
, [S.l.], v. 9, n. 2, p. 174–217, nov. 2021. ISSN 2345-4695. Available at: <
https://scientificia.com/index.php/JEBE/article/view/159
>. Date accessed: 30 sep. 2023.
This work is licensed under a Creative Commons Attribution-NonCommercial 4.0 International License.